Monday - Thursday
Lobby: 9 a.m. - 3 p.m.
Drive-Thru: 7:30 a.m. - 4 p.m.
Friday 
Lobby: 9 a.m. - 3 p.m.
Drive-Thru: 7:30 a.m. - 6 p.m.
Saturday
Closed
120 West Jones
P.O. Box 473 
Hollis, OK 73550
Phone: (580) 688-3323
Fax: (580) 688-9178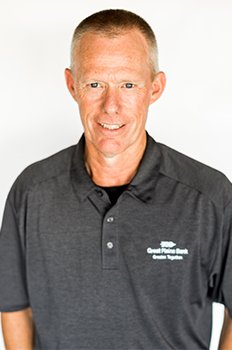 Mark Randall has been a member of the Great Plains Bank team since 2003 and has held his current role as Branch President in Hollis since 2016. A Hollis native, Mark attended Oklahoma State University and has been in the banking industry since he graduated. Mark and his wife Rachel have one son. When they are not attending his sporting events, Mark enjoys hunting, fishing, snow skiing and flying. Additionally, Mark is also a member of the Harmon County Water Board.