Monday - Friday
Lobby: 9:00 a.m. - 4:00 p.m.
Drive-Thru: 8:00 a.m. - 5:00 p.m.
Saturday 
Drive-Thru: 9:00 a.m. -12:00 p.m.
2305 W. Owen K. Garriott
Enid, OK 73703
Phone: (580) 234-5313
Fax: (580) 249-8265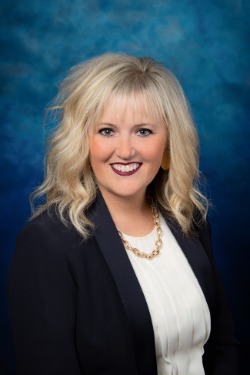 Holly Bunt transitioned to the Enid Market President in mid-2019. She started with the Bank in 2018 as a Senior Vice President helping establish & grow a commercial and agriculture loan portfolio for the newly acquired branch. Holly has worked in various lending roles in the Enid market since 2008. A Northern California native, Holly has a Bachelor's in Ag Economics from California State University, Fresno and a Master's Degree in Ag Economics from Oklahoma State University. She also completed the Graduate School of Banking at Colorado in 2019. Holly and her husband, Will, have two sons and operate a small cow/calf operation in the Ringwood area. Holly and her family love to travel and attend pig shows all over Oklahoma and the Midwest.