Elk City Third Street, Oklahoma Branch
Monday - Friday
Lobby: 9 a.m. - 3 p.m.
Drive-Thru: 7:45 a.m. - 6 p.m.
Saturday 
Lobby: Closed
Drive-Thru: 9 a.m. - Noon
2017 West Third 
P.O. Box 488 
Elk City, OK 73644 
Phone: (580) 225-2265 
Fax: (580) 225-0445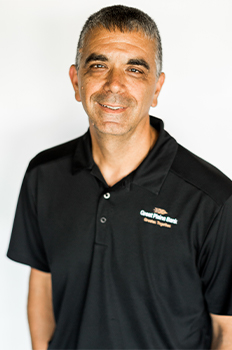 Jeff Waters has been president of the Elk City 3rd Street branch since 2013. A graduate of South Western Oklahoma State University, Jeff has been working in the banking industry since 1988. In 2006, Jeff joined the GPB family as a loan officer at our Sayre branch and transferred to Elk City in 2010. Jeff serves as the president of the Elk City Rotary Club, Elk City Athletic Foundation and is a member of the trustees of the Elk City United Methodist Church. Jeff graduated from the Colorado Graduate School of Banking in 2015. Jeff has been married to his wife, Kris, for 26 years and has one son, Alex. In his spare time, Jeff enjoys going on family vacations, golfing, watching his son compete in athletics and being outside.