Get access to your funds anytime, anywhere with the Great Plains Bank VISA® Debit Card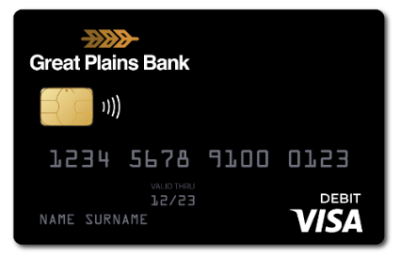 Great Plains Bank VISA
®
that displays the
VISA
®
symbol.
Debit Card Activation/PIN Change: (833) 566.5246
After Hours Debit Card Support Center: (833) 995-2881
Shop Conveniently with the GPB Debit Card in your Mobile Wallet!
Your Great Plains Bank Visa® debit card can be securely stored on your eligible mobile device through either Apple Pay™, Google Pay™ or Samsung Pay™!
Once your device is set up, you will be able to securely and conveniently pay for purchases on apps or within stores by holding your mobile phone, tablet or smart watch next to a contactless card reader offered at millions of locations across the United States. And don't worry, your card information is securely stored within your device and is never shared with merchants during transactions.
Apple, Apple Pay and the Apple logo, and iPhone are registered trademarks of Apple Inc.
Google Pay is a trademark of Google LLC
Samsung and Samsung Pay are trademarks of registered trademarks of Samsung Electronics Co., Ltd.